Eric Serenius Inducted into Gravure Cylinder Society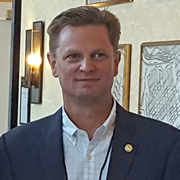 At the GAA meeting in Richmond VA USA on October 13, 2016, Eric Serenius President of OHIO Gravure Technologies was inducted into the Gravure Cylinder Society.
Mr. Serenius has a Master's degree in electrical engineering from the University of Louisville and an MBA from The Ohio State University. His work experience includes time at General Electric and Texas Instruments before joining Ohio Electronic Engravers in 1992, which became Daetwyler in 2000 and is now OHIO Gravure Technologies, a Heliograph Holding company.
During his time at OEE, Mr Serenius was heavily involved in the development of the M820 engraver, the first automated engraver, and the early Vista System. He has numerous patents to his name. Over his many years with the company, Mr Serenius has worked his way up the ladder, gaining great understanding of our products, customers and markets. He was named President of Ohio Gravure Technologies in 2012. As the primary contact for OHIO, Mr. Serenius has traveled extensively visiting our agents and customers around the globe.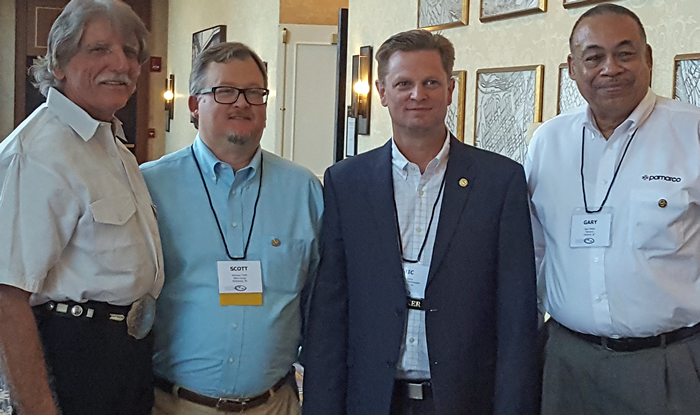 (L-R above) Hubert Metzger, Chema Technology, Cylinder Society President; Scott (last name unknown): Eric Serenius, Ohio Gravure Technologies; and Gary White, Pamarco Global Graphics
The Gravure Technical Association and Gravure Research Institute founded the Gravure Cylinder Society in 1981. Each year the Society nominates industry leaders who have rendered outstanding or extraordinary contributions to the Gravure Industry. Eric joins former OEE/OGT employees in the Society: Lester Buechler (1997), Dave DiTallo (2004), Dick Dunnington (1992) Larry Holden (1997), and Kent Seibel (2015). A complete list of members can be found on the GAA.org website.
10172016