The Auto Documented Cylinder:
DocuCell and Vital Proof

Only OHIO's Spectrum and Prism engravers offer the automatically documenting engraver to provide information for smart business decision making. With the DocuCell, Vital Proof, Dashboard, and the Cylinder Birth Certificate, we help you focus on the process.
We are continually adding enhancements and new features to our product line. Some features are optional and require a purchase order. Not all features are available on all engravers. All features require current version of Collage and may need upgraded embedded software.
Download the Auto Documented Cylinder brochure
DocuCell™ Capturing System
Many customers manually insert grayscale test blocks in each Collage job, putting the blocks in waste areas. After engraving, customers drag out the microscope and measure each area for quality assurance. DocuCell was created to perform this task in a fast, cost-effective manner.
The Collage operator identifies the cells to be measured within the Collage job. The system then automatically captures the cells of interest during engraving, and documents the values in the Enhanced Birth Certificate. No more microscope!
DocuCell is an optional feature for Spectrum and Prism Prime engravers and is now in Beta testing.
Select cells in Collage Captured during engraving Recorded on Birth Certificate

Video: Using DocuCell in Collage
Vital Proof™ Multi-Color System
Approval before printing is the goal. The patented Vital Proof system uses the feedback system of the highly accurate Vision engrave head and compares the engraved result with the original Collage data. Single color "feedback reconstructed" images are sent back to the Collage system. These images can then be overlayed for a composite result. Can the Vital Proof system replace the proof press? Not entirely, but it provides two features all customers are looking for: lower cost and faster delivery. Vital Proof information is available on the Cylinder Birth Certificate.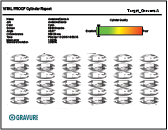 Video: Vital Proof Engraving 
Video: Using the Vital Proof Viewer

Vital Proof is an optional feature for Spectrum and Prism Prime engravers.
Requires Collage 4.3+
Hybrid and tranScribe not supported.
Dashboard Engraver Monitoring
The OHIO Dashboard is an essential management tool. This web-based tool provides information about your cylinder production from your computer desktop or mobile device. Choose to see a summary of what has been engraved over the past day, week or month. Even cylinders with faults are listed so you can check on the problem and solve it. The summary shows the percentage of time your engraver was engraving, so you know just how productive your OHIO engraver is.
Included with Spectrum and Prism Prime engravers, with embedded software version 2.x. Requires motorized head and Fedora 20.
Web-based for mobile real-time viewing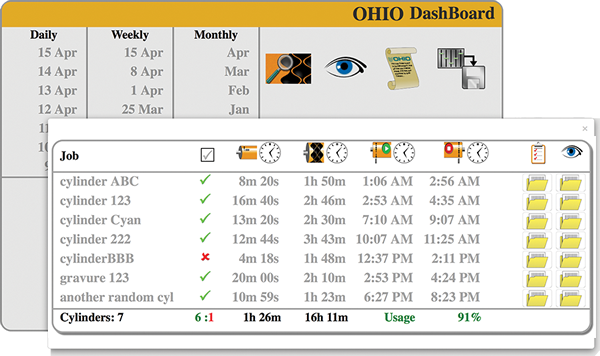 Video: Using the Dashboard
See Spectrum or Prism operator manual for information on using this feature.
Cylinder Birth Certificate
We call ours the Auto Documenting Engraver because critical data is automatically recorded on the Birth Certificate. Recently, we have enhanced this with a number of features that focus on being useful to your customers. You can deliver the cylinder with confidence and minimum verification labor. You can even include your company logo on the certificate.
The Test Cut section includes values and pictures of the full, mid tone, and highlight cells, as well as the stylus angle. Optional second test cut values are also shown.
DocuCell coupled with Collage provides the exact information your customer needs. The grayscale block measurements are shown.
Vital Proof statistically measures the actual engraving compared to the original.
The Birth Certificate is emailed upon cylinder completion.
As a bonus, OHIO will collaborate with you to create a custom Birth Certificate to meet your needs.
Enhanced Birth Certificate showing test cut data, including stylus profile, and DocuCell data.