Hybrid Engraving System

Hybrid Engraving for High Quality Results
Cylinder producers who want to improve the quality of cylinder engraving without sacrificing productivity can achieve this goal with the OHIO Hybrid Engraving System. Linework and tonework can be engraved on the same cylinder in a single operation, saving time and improving cylinder throughput. For superior printed results, choose the genuine Hybrid system from OHIO.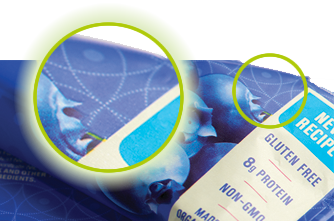 OHIO's Hybrid system is unique in how cells are created on the cylinder. While Hybrid's cells look like traditional cells, they are formed by an exclusive algorithm that controls size, shape, and placement. Hybrid engraving combines the benefits of electro-mechanical engraving and chemical etch, with the exclusive ability to place cells off the grid used in traditional EM engraving, providing sharper edges to text.
The cells Hybrid produces are a traditional diamond shape, with cell depths that allow for good ink coverage and the ink transfer predictability of traditional engraving but with a much higher print quality result.
Unlike other technologies, OHIO's Hybrid Engraving works with both linework and tonework. By repositioning both linework and tonework cells at the transition edges, a more accurate reproduction of the original image is achieved.
Compare tranScribe to Hybrid Engraving
The Hybrid Engraving System was awarded the 2016 Golden Cylinder Award for Technical Innovation at the GAA conference in October 2016. Read the Press Release
A unique enhancement for specialty printing
The Hybrid Engraving system is of special interest to the security printing and anti-counterfeit market.
Stamps, currency, and more have special requirements, such as extremely fine detail. Engraving those very fine lines is what our Hybrid Engraving excels at.
Hybrid Edging on Tone Work
Ohio knew the Hybrid Engraving System would be a great tool for improving linework and reducing engraving times; cleaner and smoother text at lower engraving screens are an engraver operator's dream. But what about other situations? Could Hybrid Engraving help linework on tone backgrounds or even text that is tone? What about decorative applications? The answer is Yes!
The latest version of the Hybrid system for Collage and the Spectrum engraver simplifies the function while providing more features. The new features include the ability to affect type-on-tone, text that is not 100%, and images for decorative printing. The following pictures show gravure printing with Hybrid and without Hybrid for the same original image. The positive and negative text are on a 30% tone background. As you can see, the Hybrid text is darker and clearer.
| | |
| --- | --- |
| Positive Text without Hybrid Engraving | Positive Text with Hybrid Engraving |
| | |
The same is true for reverse text-on-tone, offering the same edge sharpening as positive text.
| | |
| --- | --- |
| Negative Text without Hybrid Engraving | Negative Text with Hybrid Engraving |
| | |
User-Defined Values
Several functions when setting Hybrid values allow the user to control how many cells are affected and the amount of Hybrid to use. These functions can provide results similar to edge sharpening but with better results, because the Hybrid edging is also taking place.
When used with positive text-on-tone, the background tone along the edge of the text is reduced to improve edge contrast of the character, similar to edge sharpening. At the same time, the edges of the text have Hybrid edging applied to sharpen the character.
The opposite occurs on reverse text-on-tone. The tone edge cells are increased to improve contrast and modified with Hybrid edging to give the reverse character a sharper appearance.
In either situation, the amount of Hybrid effect can be limited by the operator, and the software automatically compensates based on the differences between the text and the tone so that the effect is not over-whelming.
Samples - LineWork
Below are samples of 4 point text. Top row shows micro-photographs of the engraving. Bottom row shows micro-photographs of the proof (printed on film).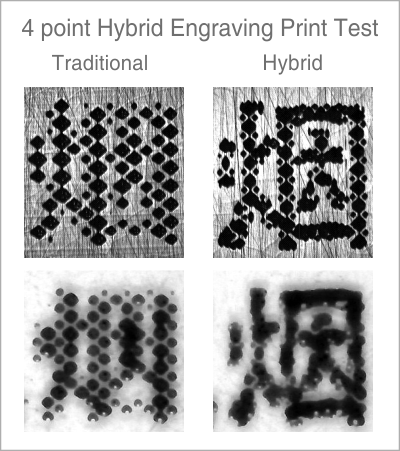 Samples - ToneWork
The image at right is a photograph of engraved tonework. The photograph shows the clean edge in the 25% tone area. Hybrid engraving uses optimized cell placement to produce the best results, on curves and on edges.
Standard Hybrid, Hybrid Impact or 130 Hybrid
The Hybrid tune can be added to a Vision 3 engrave head to achieve cell depths to 60µm to create sharp edges and clean type for standard packaging applications. But Hybrid is not limited to packaging screens and cell depths. For those who select both Hybrid and Impact tunes on their Vision 3 engraving head, Hybrid impact is automatically included*. This means you have Hybrid engraving capabilities on cell depths to 90µm! (Effective 1 November 2019)
If you need even greater depth cells with Hybrid, we offer 130 Hybrid with our High Output 130 micron head. This offers the same clean/sharp edges for applications requiring greater volumes and coarse screens. 130 Hybrid engraves cells up to 130µm in depth with the same abilities as standary Hybrid. Cells are shaped and moved to create superior edge sharpness while producing smooth tones throughout the density range. Imagine cutting a 35 l/cm screen with a 120° stylus and achieving both high cell volume and sharp edges!
The working range for the 130 Hybrid is 20 to 40 l/cm, depending on the stylus angle. We encourage using 120° to 140° stylus. Stylus lower than 120° are better suited to fine engraving screens and depths of 70µm or less.
130 Hybrid is offered as an optional stand-alone engrave head for Spectrum engravers. It is not a tune that can be added to a VISION 3 engrave head.
*The Hybrid and Impact options must both be purchased on the Vision 3 engrave head to receive this functionality.
Learn More
Learn why Printers Love Hybrid
Conventional Engraving vs TranScribe Engraving vs Hybrid Engraving
Application Notes on Using Hybrid 9800-9524
Using Selective Area Hybrid allows for very exact control of the Hybrid effects. Watch video of Hybrid and Selective Area
Hybrid Engraving is available only on the Spectrum engraver and the Prism engraver. Requires Collage 4.3 or higher