Full-up Workflow
The Full-up Workflow
. . . when the layout is done on the Design Computer
Collage was designed to use a One-up image: place the one-up on the canvas and use the Collage tools, such as the image enhancement tools on that image. When the one-up was stepped-and-repeated, all the values set on the one image were automatically stepped-and-repeated. For example, use the Selective Area tool to define the part of the image to have special gamma curve or hybrid setting to be applied.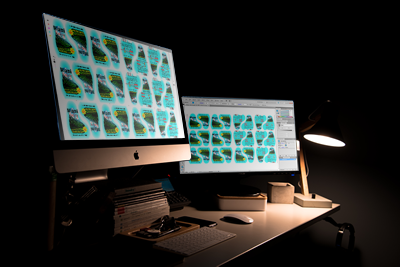 Increasingly today, the step-and-repeat is done on the design station, sending a full-up image to Collage where the output parameters (screen/angle) are set.
Previously, when a full-up image was brought into Collage, using the tools such as Selective Area had to be manually set for each of the images in the full-up. This was tedious and error prone.
With the new version of Collage, working with a full-up is now easier. You can now define an element on one image and step-and-repeat it for all the images in the full-up. This includes Color Blocks and Selective Areas for Gamma, Sharpness and Hybrid settings.