Spectrum and Prism Prime
Contour Measurement
Contour Measurement
Available for Spectrum engravers and Prism Prime engravers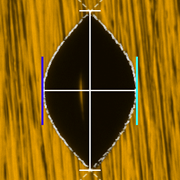 With the Contour Measurement software, test cut setup is reliable and automatic. This enhancement to EasyCell uses a new image processing method for virtually perfect cell measurement with no operator interaction.
This improvement works well with OHIO's Auto Documented Cylinder (with the DocuCell Capturing System and Vital Proof Multi-Color System) including the real-time display.
This improvement is included in embedded software (starting in version 2.1.0.27). Available only for Spectrum and Prism Prime engravers and for HS Engravers that have been upgraded to Spectrum software and controls.
Note: Non-standard cells may require operator attention.