Levels of Automation
Levels of Automation

The Spectrum engravers are designed for automation and are available as standard, semi-automated or full automation according to your current and future needs. All Spectrums include motorized enclosure doors and symmetrical headstock and tailstock.
Standard Spectrum — One-Button Engraver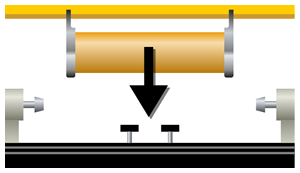 A standard Spectrum includes functions that result in automation of certain operations.
Vista Contour Measurement brings accuracy with nearly all cylinder surface conditions.
Tip Calibration ensures that the stylus and shoe are positioned correctly.
Stylus profiling ensures stylus integrity.
Mid-tone stylus correction improves tone quality.
End seeking sensors verify the cylinder and head positioning.
Parameters entered in Collage are downloaded to the engraver, so the machine automatically verifies the cylinder face length, positions the head, engraves test cuts, then automatically moves to job start and begins engraving, including end-of-job test cuts.
Semi-Automated Spectrum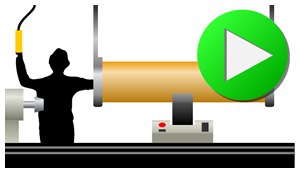 A semi-automated Spectrum is not interfaced to the overhead crane. Instead, certain engraver functions are moved away from the operator and into machine-controlled steps. Choose the options best for your circumstances.
Semi-Automated Spectrum offers the following options:
Cylinder supports with circumference verification

Cylinder piers are used on Spectrum Large Format machines
Cylinder TIR Measurement (Total Indicated Run-out)
Keyway locator for hollow cylinders or shafted cylinders
Auto Cylinder Clamping sequence of headstock and tailstock for hollow cylinders
Auto Cylinder Chucking sequence for shafted cylinders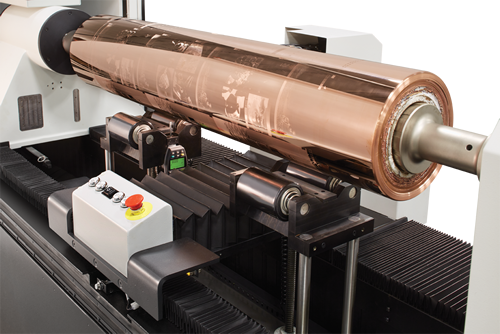 Fully Automated Spectrums

For customers with automatic engraving lines, OHIO provides the option of adding a fully automatic Spectrum engraver, with:
Safety / Interlock Interface
AutoCon Crane Interface / Scheduling Interface
Automation License
Options for Auto-Clamping / Auto Chucking
Inner/outer cones to squeeze cylinder shafts
Auto 3-Jaw chuck to clamp on bearing race
Auto 3-Jaw chuck with hollow spindle bore for extra long shafts (see below)
Shafted Cylinder Options for Automation
Inner Outer Cone

This is the simplest and lowest cost approach. Although commonly used, it has the disadvantage of clamping on the "uncontrolled" shaft end. Although the cell sizes may be consistent on the cylinder, excessive runout could lead to mis-registration in press.

Hollow Spindle Option

The Hollow Spindle with Chuck allows for clamping on the "controlled" bearing surface for highest accuracy. Note that a hollow spindle may not be required to reach the bearing surface. Review of your cylinder drawings is required to assess needs.

Auto-Chucking Option

The Auto-chucking mechanism combined with the Hollow Spindle is the most accurate and accommodating approach.
Contact your sales representative or OHIO directly for more information.