Automation
Automating a Spectrum

The Spectrum Compact, Packaging and Decorative engravers are designed for automation and are configurable for semi-automation or full automation according to your current and future needs.
All Spectrums include motorized enclosure doors and symmetrical headstock and tailstock.
Semi-Automated Spectrums
Semi-Automated Spectrum add the following features:
Cylinder supports with circumference verification
Cylinder End Seeking Sensors
Cylinder TIR Measurement (Total Indicated Run-out)
Keyway locator for hollow cylinders or shafted cylinders
Automatic Test Cut positioning and Automatic Job Start
Auto Cylinder Clamping sequence of headstock and tailstock for hollow cylinders
Auto Cylinder Chucking sequence for shafted cylinders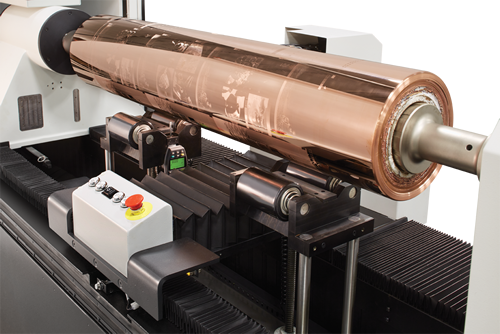 Fully Automated Spectrums
For customers with automatic engraving lines, OHIO provides the option of adding a fully automatic Spectrum engraver, with:
Safety / Interlock Interface
AutoCon Crane Interface / Scheduling Interface
Automation License
Options for Auto-Clamping / Auto Chucking
Inner/outer cones to squeeze cylinder shafts
Auto 3-Jaw chuck to clamp on bearing race
Auto 3-Jaw chuck with hollow spindle bore for extra long shafts (see below)
Shafted Cylinder Options for Automation
Inner Outer Cone

This is the simplest and lowest cost approach. Although commonly used, it has the disadvantage of clamping on the "uncontrolled" shaft end. Although the cell sizes may be consistent on the cylinder, excessive runout could lead to mis-registration in press

Hollow Spindle Option

The Hollow Spindle with Chuck allows for clamping on the "controlled" bearing surface for highest accuracy. Note that a hollow spindle may not be required to reach the bearing surface. Review of your cylinder drawings is required to assess needs

Auto-Chucking Option

The Auto-chucking mechanism combined with the Hollow Spindle is the most accurate and accommodating approach.