Large Format
Large Format Spectrum

For your largest specialty work
The Spectrum Large Format engraver for packaging gravure is designed for unique large cylinder applications: large packages, woodgrain, laminates, floor coverings, and so on. Cylinders with circumference of up to 2200 mm (or more) can be engraved on this machine. OHIO can customize this machine to your requirements. See the Specification Sheet for more details.
Hollow Spindle
A unique feature on the Large Format Spectrum is the pass-through headstock and tailstock: the hollow spindle.
Long cylinder shafts can go through the chuck and into the spindle, allowing the chuck to grip closer to the cylinder body. In most cases, this allows the chuck jaws to grip on the press races or the surfaces used for finishing. These surfaces normally run true with the cylinder surface, so setup is greatly reduced.
The hollow spindle bore is 100 mm, with a maximum shaft swallow depth of 750 mm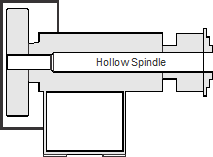 An illustration of how the hollow spindle works: