QuickCell
QuickCell™ Interactive System

The Vista system provides a robust automatic test cut capability for the Spectrum. However, some situations require operator involvement in the setup process. For these customers, Ohio Gravure Technologies has developed the QuickCell setup system, exclusive to Spectrum and Prism Prime engravers.
QuickCell provides for more operator interaction, allowing the operator to quickly verify cell sizes.
With the QuickCell system, the camera focus and lighting are automatically adjusted and test cuts made, then the cells are displayed on-screen for the operator to review sizes without stopping cylinder rotation.
Adjustments are made using the touchscreen to move the cursors. During this time, the cylinder never stops turning, and if adjustment is needed, the next cut happens immediately with no waiting. The process is very fast.
Cylinder through-put is much faster than manual test cuts and similar to automated setup, and correct cell sizes are guaranteed with the operator involvement. After the operator accepts the test cut settings, the engraver automatically advances the carriage and begins cutting the job.
For customers running automated lines, the Vista system frees the operator for other tasks. Vista automatically measures test cuts, adjusts cell sizes as needed, performs Stylus Profiling, and starts engraving: all without operator intervention.
Both systems use Ohio GT's advanced technology to automatically focus and calibrate the camera, automatically start engraving the job, and create Cylinder Birth Certificates at job completion.
Vista is optimized for automation and QuickCell is optimized for speed and operator verification.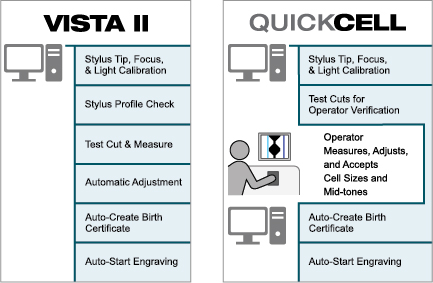 Available on Spectrum and Prism Prime engravers.
Watch a video about QuickCell
QuickCell is a trademark of Ohio Gravure Technologies