End of Life
End of Life Notice

Collage Linux Server Changes
Effective June 1 2016, Ohio GT has ended support for Collage Linux Server. You can continue to use your Collage Linux Server and the Collage clients, but if you want to upgrade the Collage software or you want to replace the Collage Linux Server hardware, this is no longer supported. See Upgrade Options below.
Definition: The Collage Server runs on a computer purchased from Ohio with RedHat OS or Fedora OS, Collage Server software and uses a dongle programmed with a Collage Server license. The Collage Server runs all the processes for creating Collage jobs and manipulating images in Collage jobs. It may also run now-obsolete JawsRIP. All files are stored on the Collage Server (jobs, images, gamma files, and sharpness files). One or more Collage client computers is networked to the Collage Server. The operator uses the Collage Layout Software on a client computer to create the jobs; the client is a basic, low-end Windows computer. The engraver pulls cylinders to engrave from the Collage Server, not from the client.
A computer server that archives Collage jobs is not a Collage Server: it only stores files. The Collage software does not run on this server, and the engraver cannot pull jobs from this server. Only a Linux computer from Ohio with Collage Server software and an OGT dongle is considered a Collage Server.
Upgrade Options for Collage Linux Server
If you want to upgrade Collage software:
A Collage Linux Server license and one client license will be replaced by one Collage-S license and current Collage-S software. Note that the Collage-S computer will be used by an operator to create jobs, unlike the Linux server.
The old Collage Server dongle must be returned to Ohio GT or have the license removed. The client dongle will be converted to a Collage-S dongle, to be used on the Collage-S computer.
The Collage-S software must be installed on a computer that meets our minimum specifications.
The Linux server hardware can be discarded or repurposed as you wish.
Any Collage client computers after the first one will have upgraded client software and be re-configured to use the Collage-S PC as the server.
Note that existing dongles may need to be replaced to support the new software.
A maxiumum of 3 clients can be networked to one Collage-S computer.
Windows XP is no longer supported by Microsoft or Ohio GT. Windows 10 Professional (64-bit) is required. Contact us for computer specifications for Collage-S computer and client computers.
A service visit may be required for this conversion and new configuration (quoted separately).
If the Xitron RIP is added, it can be installed on the Collage-S PC.
Note: If Collage software is upgraded, all RTI/embedded software may need to be upgraded also.
Illustration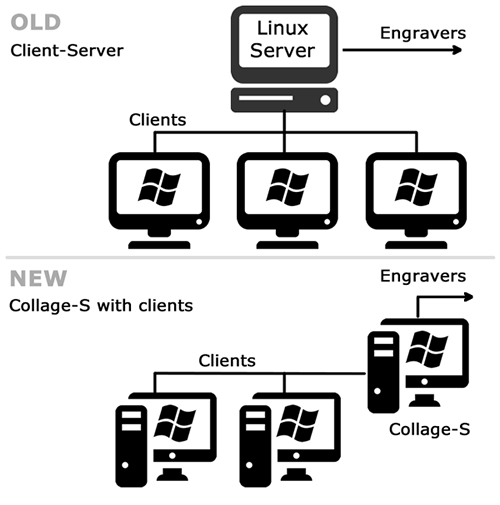 Please contact us to if you have any questions.