New features on OHIO engravers
New Engraver Features

We are continually adding enhancements and new features to our product line. Some features are optional. Contact us for more information. Look here for new features in Collage
Redesigned User Interface
With the wide-screen, high-resolution monitors now standard on Spectrum, Prism and the GS HS Upgrade to Spectrum Controls, our designers took the opportunity to redesign the icon-based user interface. The workflow has been simplified and clarified and some pages will look every different. For example, here is the VISTA Cell Measure page:

The icons are now more detailed, sharper, more attractive, and we hope more easily understood. For example, here are a few icons, both old and new:
| | | | | | | |
| --- | --- | --- | --- | --- | --- | --- |
| Old icon | | New icon | | Old Icon | | New Icon |
| | | | | | | |
| | | | | | | |
| | | | | | | |
Ethernet Camera

The head camera has been changed to an Ethernet camera instead of the old Firewire camera. It is more reliable and provides sharper images. This camera is on all new Spectrums and Prisms. Upgrades are available for older Spectrums and Prisms, and for GS HS engravers upgraded to Spectrum Controls.
Semi Automation
The Engraver does significant portions of the process without operator involvement. This includes cylinder face length verification (End Seeking), cylinder run-out verification (TIR measurement), head positioning for production engraving and engraving start. If specified in Collage job, a second test-cut is automatically performed. These are options for new Spectrum and Prism Prime
Sequenced Engraving

Also called "over-engraving." Both Collage and engraver embedded software have been enhanced to make Sequenced Engraving a better project. Now, the engraver job list only displays the first cylinder of a sequence. When that cylinder is selected, all cylinders in that sequence are automatically downloaded. Various positional data is not reset for sequenced cylinders, to ensure registration. See the CIB about Sequence Engraving
Job List on Engraver
The Job List on the engraver now shows the upper level Job ID as a folder name. Click on the folder name to see all the cylinders in the job. This change greatly improves the usability of the Job List, which previously could grow to hundreds of individual cylinders at large plants. See this CIB about Sequence Engraving for more information on using the Job List.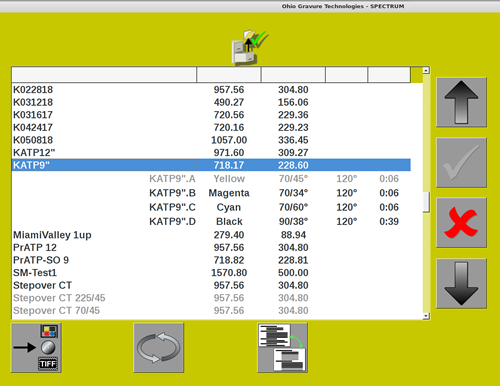 Job Notes now Shared with Engraver
The Collage operator can add notes to the job ....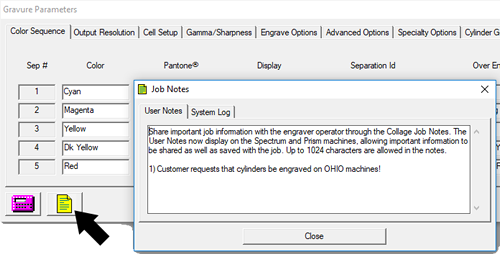 ... that can then be viewed on the engraver.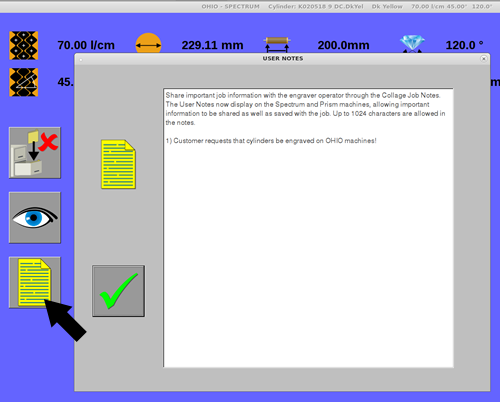 Limited to 1024 characters.
Engraving from USB Drive
You can now engrave jobs from a USB drive, not just from a CD. Recent Spectrums and Prism engravers have a USB port on the top of the machine. Older machines can be upgraded to this port.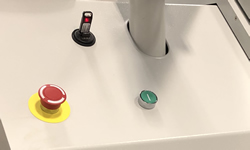 End-Seeking Sensors
New Spectrum and Prism Prime engravers come standard with End-Seeking Sensors for automatic cylinder length verification and placement of engrave head.. The sensors are optical sensors for accuracy. Please contact OHIO or your sales agent to see if your older Spectrum or Prism Prime can be upgraded with the End-Seeking Sensors.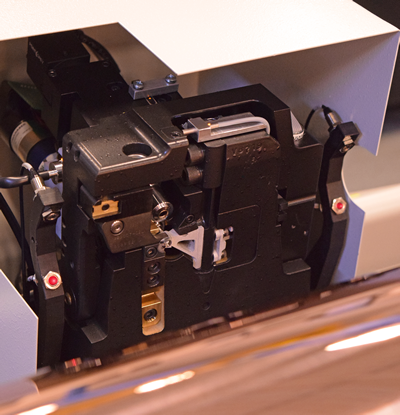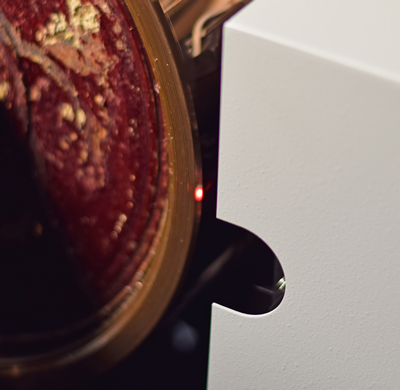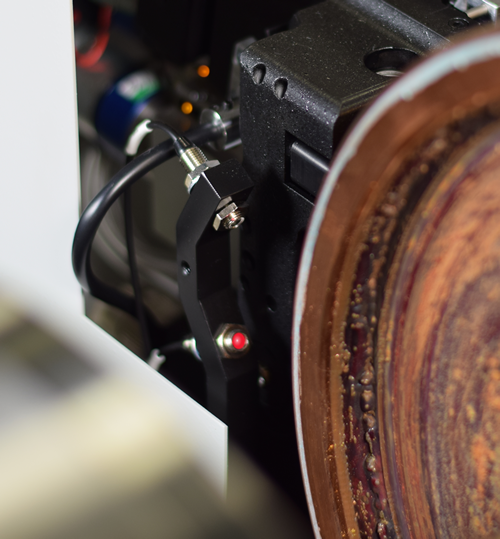 Volume Test Cut - Coming Soon
Diamond stylus wear over time with the stylus angle increasing with wear. Additionally, chips will occur in the stylus. Both of these conditions will reduce the cell volume as compared to a new stylus. Now, factor in copper that can vary and affect the cell size, and you quickly see the need to monitor the volume of the cell and not the width of the cell.
OHIO's Volume Test Cut considers all these factors when performing test cuts on the Spectrum or Prism Prime. Minute adjustments are made to cell and channel widths to compensate for variations and produce the correct cell volume for the specific cell. Volume Test Cut adjusts not just the shadow cell, channel, and highlight cell, but also two mid-tone cells to achieve consistent engraving and thus printing results.
The Volume Test Cut option will soon be available. Please contact OHIO or your sales representative for more information.
OHIO listens to our customers and provides unique solutions to your problems. We'd love to talk with you about how we can help you. Contact us!